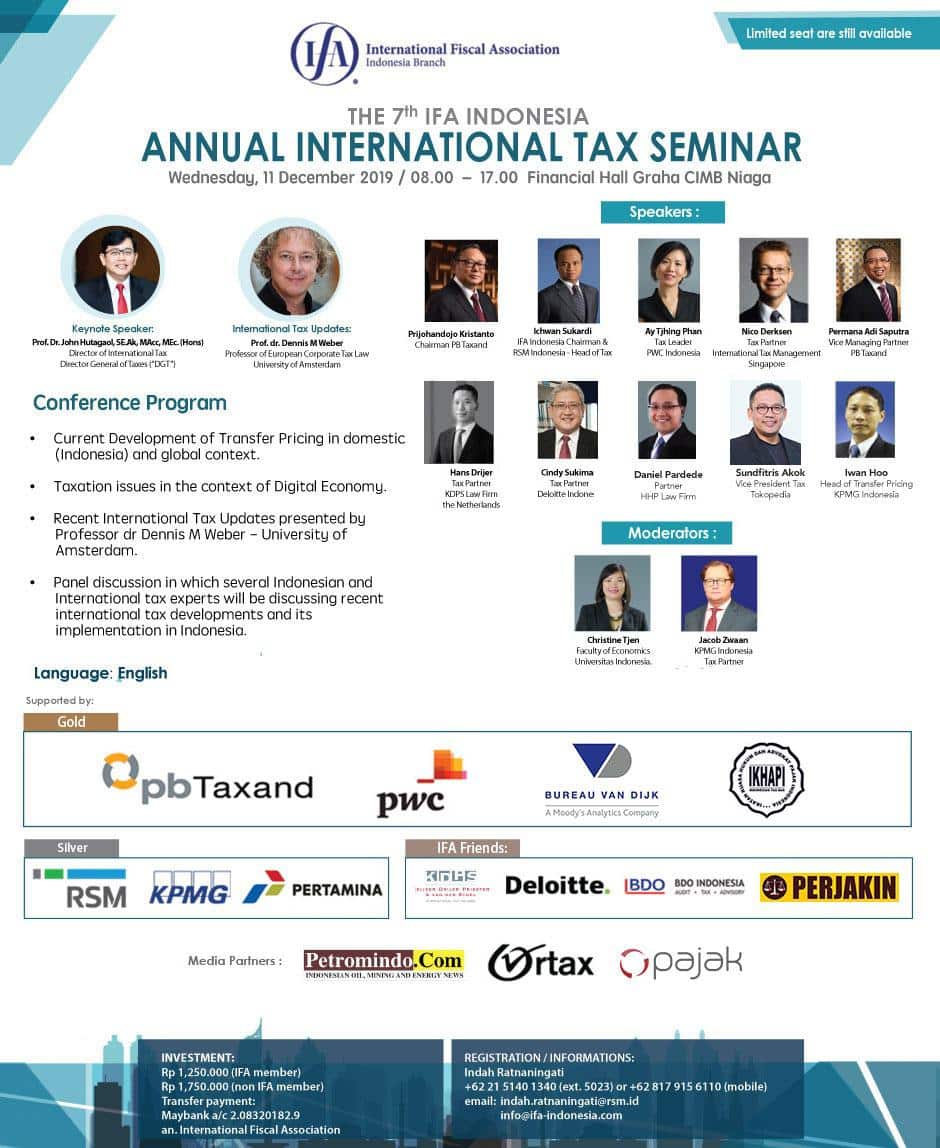 In the era of a modern economy that is based and moves dynamically with technological sophistication, aspects of international taxation are heading for a new chapter. Issues regarding the digital economy, transfer pricing, tax treaty, base erotion and profit shifting (BEPS), and beneficial owners in the international sphere are growing, becoming a concern and debate as well as being a challenge, problematic and having a large impact on financial transactions between countries.
International Fiscal Association – Indonesia branch will organize its 7th Annual International Tax Seminar in Jakarta on 11 December 2019. The aim of this international tax seminar is to provide recent updates on international tax issues for all stakeholders, by inviting reputable Indonesian and foreign speakers with various background to comprehend the discussions.
This year seminar brings together expert representatives from business, tax professionals firms, governments, academics and enables a structured dialogue and exchange of expertise which can feed into a more sustainable approach to understand the current and future international tax policy issues, obstacles and provide inputs.
Lokasi lengkap : Jl. Jend. Sudirman No.Kav 58, RT.5/RW.3, Senayan, Kec. Kby. Baru, Kota Jakarta Selatan, Daerah Khusus Ibukota Jakarta 12190
About International Fiscal Association
The International Fiscal Association (IFA) was established in the winter of 1938 in The Hague, Netherlands, at the end of the interbellum. Though there were indications of a new war, the need had arisen for an independent organisation with certain objects. Along with the increasing internationalisation of the world's economies, international tax issues had become more numerous and of greater importance.
With the need for more studies of comparative fiscal law and the need to cope with these new challenges, a platform was created by a group of people involved, with the aim to encourage the research on international tax issues by:
- Publishing the annual cahiers in print and digital, with general reports on international subjects and the reports by countries related thereto. As well as other publications on specific subjects;
- Organizing annual congresses since 1939, regional conferences and seminars. Creating a prominent platform for bringing down the thoughts within IFA members and for making them known to the world, stimulating the discussion and bringing nuances to these;
- Providing incentives on scientific work such as the Maurice Lauré Prize, the Mitchel B. Carroll Prize and the YIN Scientific Award;
IFA has grown to a truly global association with nearly 13,500 members from 111 countries. In 72 countries IFA members have established IFA Branches. For members in countries where an IFA Branch has not been yet established, IFA facilitates direct membership.